How to start the recruiting process with coaches in Productive Recruit
The recruiting process is crazy, so we built a tool to organize it efficiently and get rid of the stress. When you start the process with different colleges in Productive Recruit, you get a unique page where you can keep track of all recruiting activities and communications specific to that college. This page allows you to add tasks, log notes, and track emails to the coaches from that college - helping you run all your recruiting communications with clear visibility and context.
Steps to start the process with college coaches
Navigate to the coaches page.
Change any of the filters by typing in text or selecting a drop down option.
Click start process (or if you click more info you will will see a start process button there as well)
You will be taken to your recruiting process page for that school!
Steps to manage your recruiting processes in Productive Recruit
Click on Recruiting Processes in the sidebar.
Find the process you want. You can utilize the filters to search by college name or status.
Click any process to be taken to the recruiting process page for that college.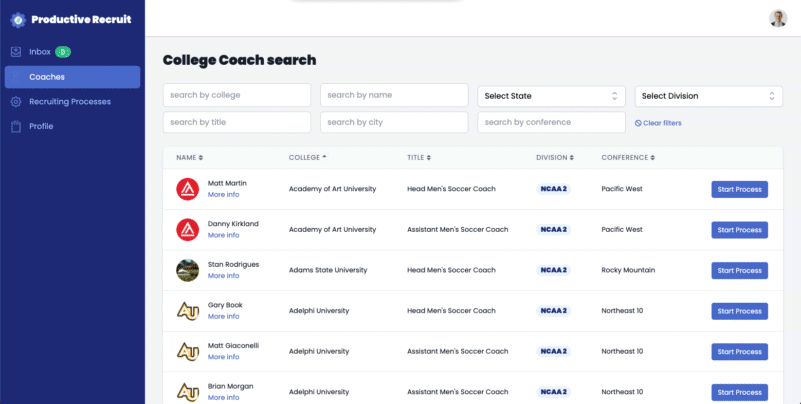 ---
About the author
Colin McAtee, founder of Productive Recruit, is a former college soccer player for the University of Michigan. At Michigan Colin was a first team all Big Ten player, team captain, and team MVP. Colin resides in Chicago, IL where he runs Productive Recruit, works as a software developer, and is pursuing his masters in Computer Science from DePaul University.